A massive new VIP Terminal and a generic domestic terminal.
Sochi/Adler International Airport is putting up the Olympic signs and readying the AeroExpress train.
It is positioned near the Olympics Coastal Cluster, on the road north to the Mountain Cluster. Sochi city proper is some 40 km away west along the coast. There is a small church across the street.
The airport is a bit quirky, there is some retail in the main hall, very little inside the domestic departures zone except those Russian cafes that serve drinks and candy bars.
The gates have almost no seating. Instead there is a large seating hall. I am not a fan of relying on monitors and announcements, especially when I had just been flown to a different city without realizing it, so I stayed near my gate.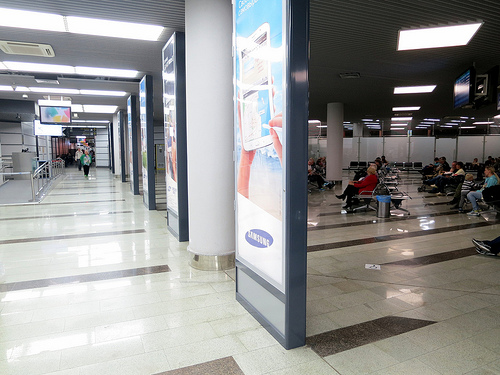 Oh, and so far, no McDonald's or Starbucks. Still Russian all the way.
Rapid Travel Chai email updates ¦ twitter ¦ facebook